Training Solutions

Business Acumen Assessments
Our leadership valuation outcome assessments are taken as part of programs to improve the financial and valuation outcome of an organization or enterprise. Our assessments are designed to be used in a corporate context and environment. Due to their sophistication, they are also designed to be used as part of a program where skilled Perth consultants are available to explain their results and to show how an executive can improve his or her performance. More...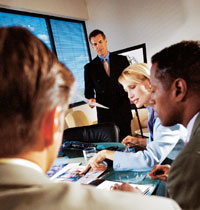 Business Acumen Training Programs
Perth Leadership products are designed to increase your company's valuation by providing you with strategic valuation advice based on innovative executive assessments. Help your team win more sales and achieve higher profits by demonstrating how the Financial Signatures® of your leadership team can be harnessed to increase profitability and improve valuation outcomes. More...

Business Acumen Seminars
The Perth Leadership Institute runs CEO and Top Manager Boot Camps and Seminars for the business leaders of companies and divisions of larger companies. They are aimed at improving the executive performance of these leaders. The CEO and Top Manager Boot Camps and Seminars make business leaders aware of the issues, especially those that relate to the profile of their personal executive leadership style and its impact on the market value and vlauation of their enterprise. More...