The Largest Companies from All Over the World!
Messages and feedback go to "About Us/Contact Us"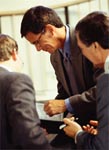 The Perth Leadership Institute has worked with numerous clients. These include some of the largest companies in the world in the US, China, Asia and Europe. They also include young, rapidly growing companies, turnaround stories and mid-market companies. We have also worked with nonprofits and educational enterprises.
The Perth Leadership Institute's customers are typically senior executives and middle managers of large and medium-size companies. In many cases they wish to conduct assessments on both themselves, their executive teams and the managers under these executives in order to show these managers how they can improve their financial impact and performance for their company or enterprise. Our clients include numerous CEOs who have wanted to use our approach with their management teams at all levels,
Some of Perth's successes include:
Conducted several Behavioral Competitiveness programs with the divisions of a well-known publicly-traded  insurance company in the US to improve their capability not only to increase profitability but to target the best future competitive positioning from a profitability viewpoint.
Conducted a Behavioral Competitiveness program with the global CEOs of a well-known publicly-traded French financial services company to show how to optimize profitability in each of the regions through behaviral approaches to competitive positioning.
Conducted a Behavioral Profitability program with the Chinese subsidiary of a major French publicly-traded global construction company to strain professional engineering managers how to become more profit-focused.
Conducted a Behavioral Profitability program with a Chinese State Owned Enterprise (SOE) in the construction industry in order to show a profit-based government enterprise how to use cutting-edge behavioral approaches to improve their profitability and valuation in prepration for going public.
Developed a valuation improvement strategy for the CEO and executive team for a rapidly growing publicly-traded company in the South of the US by working with its top managers through a Valuation Alignment program.
Worked with the COO and management team of a publicly-traded publishing company in Canada through Perth's Behavioral Competitiveness program to assess each of their individual financial styles, show them the impact of the team on the financial performance of the company, explore means of improving this and through individual coaching, showed each how they could contribute to the team's financial performance goals.
Working with the CEO and senior management team of a private, US Midwest-based technology company which had experienced sales problems, through a Behavioral Profitability program, formulated a new financial impact approach which enabled the CEO and team to successfully increase sales based on the team's new understanding of how to achieve great financial impact at both the individual and team level.