Financial Outcome Assessment™
The Financial Signature® is a core concept in PLOM™. Several important consequences can be derived from the Financial Signature® related to valuation outcome of an enterprise and the financial performance of an executive or team. The Financial Outcome Assessment™ results for an individual can also show the outcome of an enterprise under their control if and when they reach a position of leadership.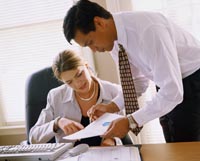 The Financial Outcome Assessment™ (FOA) assessment is an advanced instrument that provides the individual's Financial Signature® and potential valuation outcomes of their enterprise. It is targeted towards senior executives, managers and those individuals that aspire to a position of leadership at any level that has an impact on the market value of any enterprise. It is used not only by those who lead, or could lead, a profit center, but also for those who are or will be responsible for a cost center. For any individual not in a leadership position it will show them the likely valuation outcome of their leadership at any level in either a profit or a cost center.
The FOA offers a profile of the Financial Signatures® of an individual, a team or a potential team of individuals who need to work together to achieve an outcome which will improve the market value of their enterprise, organization, unit or division.
The FOA takes approximately 15-20 minutes to complete. It is usually part of a Valuation Alignment Program™ or as part of a consulting assignment with Perth.